Knights of mercy bring hope
By Xing Wen | China Daily | Updated: 2020-02-12 07:35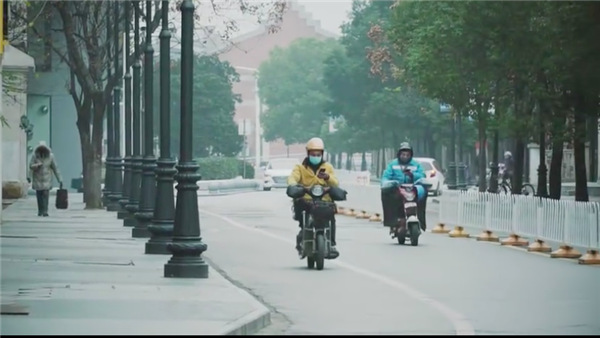 They are knights of mercy. Their armor, however, is not forged of cast iron, but is comprised of plastic helmets and brightly-colored jackets of blue, yellow and red. Their steeds are not sinewy stallions, but nippy, two-wheeled electric scooters and motorbikes, upon which they negotiate the deserted streets and lanes of Wuhan in Central China's Hubei province, the epicenter of the novel coronavirus outbreak.
Their quest: to run errands for city dwellers who are required to remain housebound to prevent further spread of the virus.
Instead of enjoying traditional family reunions during Spring Festival, these riders, who used to mainly deliver takeout orders, buzz around town all day long, helping residents by performing all kinds of errands.
As all public transportation systems have been halted in the city since Jan 23 in a bid to reduce population mobility and contain the spread of the deadly virus, people have become more dependent on this group of modern-day cavaliers to deliver the everyday essentials.
One, nicknamed Laoji, in his early 30s, didn't go back to his hometown Danjiangkou city in northwest Hubei province this Spring Festival. He wanted to help the people of Wuhan. He and his colleagues have helped keep the city's residents well fed and well provided for.
Every morning, after measuring his own temperature and disinfecting the big insulated food delivery container fixed on his bike, Laoji, wearing a mask, starts to busy himself by flitting between restaurants, supermarkets and drugstores before delivering to residential compounds that are scattered across the city.