Film and TV crews plot return to production
By Xu Fan | China Daily | Updated: 2020-02-13 07:35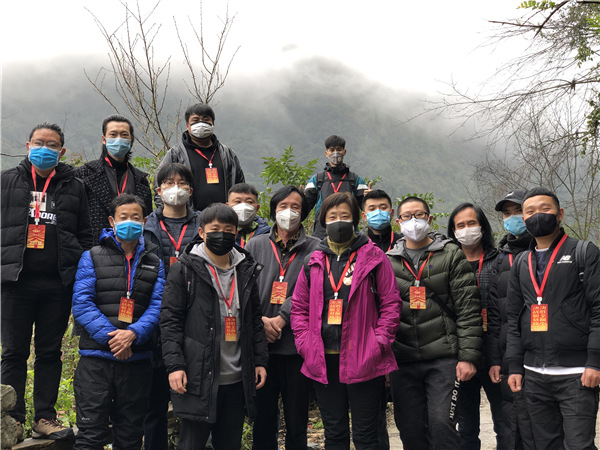 Lights! Camera! Action! These three words may again be heard in studios across the country as the film and television industry, which along with other sectors has been dealing with the novel coronavirus pneumonia outbreak, tentatively restarts production.
While enterprises in Hubei province, the source of the outbreak, are expected to return to work in a while, many people in other provinces have already resumed work.
Hengdian World Studios, the country's largest film and TV drama shooting base, located in East China's Zhejiang province, has issued a guideline to allow crews to "safely and orderly" return to their sets under strict checking procedures from Thursday.
The complex, covering an area of 30 square kilometers, suspended all filming on Jan 25 and was closed the next day. At least 20 film, TV drama and online series crews and around 5,000 extras were working before the closure, according to Aicaijing, a new media brand affiliated to the industrial magazine Economic Weekly.
Hashtags about Hengdian's reopening have garnered 250 million views on Sina Weibo, one of China's most popular social media platforms. But most netizens say they are worried it's still too early and risky to re-launch production as the contagion has yet to be completely controlled.
Film producer Guo Jing, whose most popular work was the Berlin International Film Festival's Silver Bear-winning Crosscurrent, says a big-budget film or TV drama crew may suffer a large financial hit during a shooting halt.
"It's usually very expensive to rent sound stages and advanced shooting facilities. Besides, producers may still have to pay the actors as well as other crew members, such as those working on costumes, makeup or in fine art departments, while they are being isolated in hotels," Guo explains.
"I'm sort of 'lucky' as I don't have a project being shot right now, but my schedule to meet potential investors and distributors had to be canceled. Usually, the period after Spring Festival is one of the best to raise investment," he says.
Keeping the creative team of Crosscurrent, Guo is working on shooting a feature-length film and an online series adapted from Hugo Award-winning writer Hao Jingfang's sci-fi novel The Last Brave Man.
Not gathering on set does not mean work is not being done.
"My scriptwriters are all staying at home and focusing on writing the script. They have no distractions. One of the leading scriptwriters says he has been working on the script more than 12 hours a day and cooks instant noodles to save time," says Guo.
Miao Yue, an established director best known for the Hundred Flowers Award-winning Hold Your Hands, also stayed at home during the Spring Festival holiday.
Her latest directorial effort, Xiumei Rensheng (The Beautiful Life), began preparation work in early December. It was halted when the outbreak occurred in late January.
"I had been in Wuhan (the epicenter of the outbreak in Hubei province) for three months to shoot my film Taste of Home in 2014. It's a dynamic and beautiful city," recalls Miao.
"So when I was watching the deserted and empty streets, as well as the suffering patients on TV news, I was so sad and couldn't hold back my tears," says the director who started her career in the film and TV industry in the late 1980s.
Xiumei Rensheng is based on the true story of Huang Wenxiu, a village Party secretary in Guangxi Zhuang autonomous region who was devoted to help locals fight poverty. She died in a flash mountain flood on June 17, 2019, at age 30.
Now, leading a team of 15 major creators, Miao reveals she has just returned to the outskirts of the village that Huang worked in to investigate locations that might be fit for outdoor photography.
"We have brought enough facial masks and medical alcohol. All the places that we plan to visit are rivers, roads and fields. Our top working rule is not to be in contact with any villagers to ensure everyone's safety," says Miao.
But most of the showbiz industry insiders are choosing to stay at home, taking a much longer Spring Festival vacation than they had ever expected.
Zhang Hongrui, a veteran actor known for hit TV series such as Those Innocent Years, recalls he was shooting a police-themed television drama in Zhongshan, Guangdong province, in January.
As a Beijing native who had experienced the SARS outbreak in the Chinese capital 17 years ago, he says he has been alert and cautious since early January and taken self-isolation measures in a local hotel after the crew of around 200 members was informed to suspend shooting.
On the other hand, there are no signs that China's nearly 70,000 screens will reopen, according to cinema managers.
Song Bingmei, a chief of Nanning Minzu Cinema in Guangxi, says it will be a very tough time for theaters as they struggle for survival.