Grandmaster Ju has all the right moves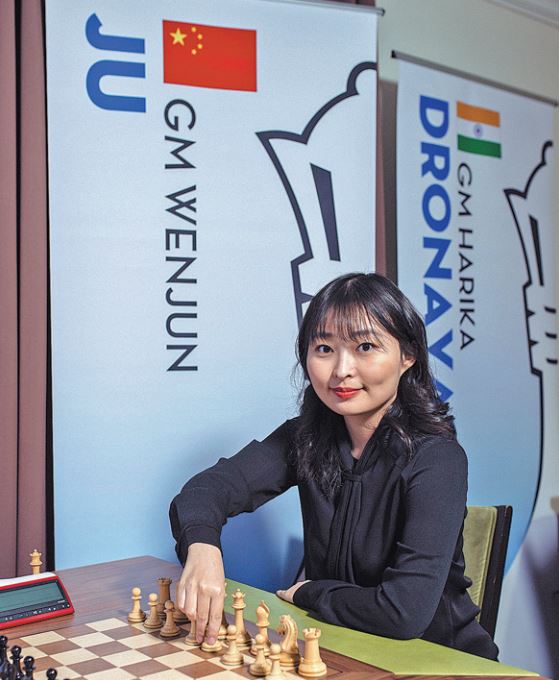 China's multiple world champion believes her best yet to come as she continues to fend off young upstarts
Chinese chess grandmaster Ju Wenjun has multiple world titles to her name and is arguably the biggest star of the women's game.
At 29, the Shanghai native is considered something of a veteran of a game whose youngest GM was a 12-year-old (Sergey Karjakin).However, Ju is hungry for more success and believes she has yet to reach her full potential.
Right now, the $45,000 first prize at the Cairns Cup in St. Louis, Missouri, is in Ju's sights.
The $180,000 all-female tournament, which is hosted by St. Louis Chess Club, began last Thursday and continues until Monday.
Top seed Ju leads a star-studded field that includes Indian grandmaster Humpy Koneru, US women's champion Irina Krush and Russia's women's world rapid champion Kateryna Lagno.
"I hope to make more breakthroughs this year and plan to attend more high-level tournaments, including some men's events, in order to improve quicker," Ju told China Daily on Monday.
"What I want the most now is to go beyond myself. And my next goal is to win the World Chess Blitz Championship.
"I know that as a 29-year-old player, I'm not young. But I believe there's still room for improvement. As long as I'm focused on this one thing, I can still improve. I need to learn more from men's players in terms of the way they handle different situations."
Ju was ordained a grandmaster in 2014, and four years later won the Women's World Chess Championship for the first time. In November of 2018, Ju retained her title.
This January, Ju successfully defended her crown against Russian 21-year-old Aleksandra Goryachkina.
Ju also won the Women's World Rapid Chess Championship in December 2017 and repeated the feat a year later.
In 2017, Ju became the fifth female to break the 2,600-point mark in the FIDE ratings. She is also the second highest-rated woman in chess history behind compatriot Hou Yifan, putting her in the top 20 Chinese players of all time.
Never in her wildest dreams had Ju imagined that she could achieve so much in the game when she first sat down at a chess board at the age of 7.
"At first, chess was just an interest after school for me," she said. "From the very beginning, I was attracted by its charm and I had great performances against other kids of my age.
"I chose to turn pro in 2004 when Shanghai was trying to nurture more young chess talent. My parents asked me if I wanted to make chess my career and I made my decision. My parents have always supported me."
Ju also credits her coach, Ni Hua, as one of the biggest factors behind her success. Ni is a grandmaster and a former captain of China's national team.
"I want to thank my coach Ni Hua the most. He was part of China's historic victory at the 2014 Chess Olympiad," said Ju. "To help me train, he gave up a lot of his personal time.
"For example, the first day when we arrived in Russia for the 2020 Women's World Chess Championship, my coach received the news that his grandmother passed away. Despite his distress, he still decided to postpone the funeral. He did not tell me anything at that time to keep me focused on preparing for the match."
After that victory, Ni said: "Our confidence comes from the one belief that never changed in our heart, which is we will never give up."
With her mental fortitude bolstered by that triumph, Ju now heads into battle a much calmer and confident competitor.
"Becoming world champion is the dream of all players, and achieving the goal made me a lot more confident," she said.
"With a better mentality, I'm now focusing more on the process and the quality of each game instead of the result.
"I'm a lot more calmer than before. As every game is a new challenge, only a calm mind can allow me to make the best next move."
As for chess' next move in China, Ju reckons more can be done to promote the game in the world's most populous nation.
"China is a latecomer to chess," Ju added. "In certain Chinese cities, chess has some influence and even some primary schools offer chess classes for kids.
"We need to promote chess, especially among the next generation to ensure we produce more talented youth players and increase the chess population."