US vicious attacks against China at security meeting prove futile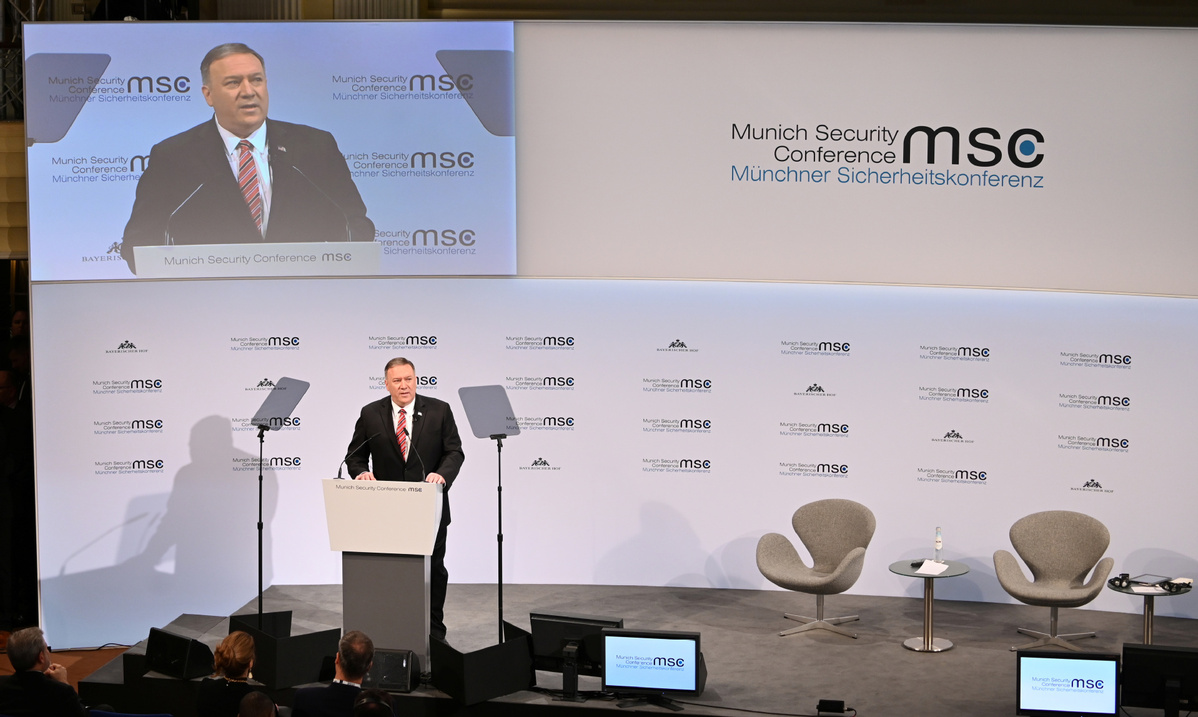 At the 56th Munich Security Conference, which ended on Sunday, the US delegation launched a vicious attack on China and Chinese telecommunications equipment maker Huawei in a desperate bid to coerce the United States' European allies to toe Washington's line on China and its companies.
But while US officials such as Secretary of State Mike Pompeo, Secretary of Defense Mark Esper and House Speaker Nancy Pelosi, who led the smear campaign, might believe that their strategy has worked, all indications seem to suggest otherwise.
The largest ever US team sought to hijack the security conference agenda on key global issues such as climate change and Libya. And the anti-China speeches delivered by Pompeo, Esper and Pelosi showed the United States is becoming increasingly isolated in the international community, which has categorically rejected unilateralism and trade protectionism. The conference, in short, showed the growing gap between the US and its European allies.
Surprisingly, this is also the conclusion of many Western journalists who generally have been biased against China. The lead article in Politico, a US politics and policy newspaper, titled "Trump's US and EU in parallel universe on security" by its chief European correspondent Matthew Karnitschnig said it all: For decades the Munich Security Conference served as a powerful symbol of the strength of the Western alliance. The 2020 installment offered a testament to its accelerating decline.
An article in Foreign Policy,"The US and Europe are speaking a different language on China" by Berlin-based journalist Noah Barkin has been re-tweeted by many China watchers. And its subhead summarizes the issue beautifully: Dire American warnings about the threat from Beijing fail on deaf ears".
A report in The New York Times by veteran reporter David Sanger and chief European diplomatic correspondent Steven Erlanger was headlined:"'The West is winning,' Pompeo said. The West wasn't buying it", while The Washington Post echoed the message in an article titled:"At Munich Security Conference, an Atlantic divide: US boasting and European unease".
Besides, an article in The Atlantic on Feb 17 titled,"America is alone in its Cold War with China", was not filed from the security conference, but its staff writer Uri Friedman seemed to know that the US' attacks on China were destined to fail no matter how nefarious and threatening they were.
If Pompeo, Esper and Pelosi had done their homework, they probably wouldn't have made such fools of themselves in Munich.
Despite the US hyping up the "China threat" theory, what the rest of the world has seen is a China that consistently upholds multilateralism, contributes to global economic growth and plays a responsible role on the global stage.
The Pew Spring 2019 Global Attitudes Survey revealed that most countries, including most European countries, had a huge net disapproval rating for US policies, from 86 percent in Germany and 82 percent in Spain to 80 percent in France and 70 percent in the United Kingdom.
More important, the US is by far the biggest violator of global rules and norms. By withdrawing from international agreements and organizations, such as the Paris climate accord and Iran nuclear deal, the US has alienated itself from the international community. And by abusing its outsized economic and financial power to implement extraterritorial measures, it has hurt countries in Europe and the rest of the world.
The latest US new attack on Huawei's 5G technology came at a bad time, just days after it was revealed that the CIA had long used Swiss company Crypto AG to spy on 120 countries-another devastating revelation after the one made by former US National Security Agency official Edward Snowden in 2013.
US officials have long insisted that governments from Europe and Asia to Africa and Latin America are not capable or smart enough to make their own decisions, but the rest of the world begs to disagree.
The author is chief of China Daily EU Bureau based in Brussels.
chenweihua@chinadaily.com.cn
Most Viewed in 24 Hours
China Views