Sanders wins Nevada Democratic caucuses - US media
Xinhua | Updated: 2020-02-23 08:50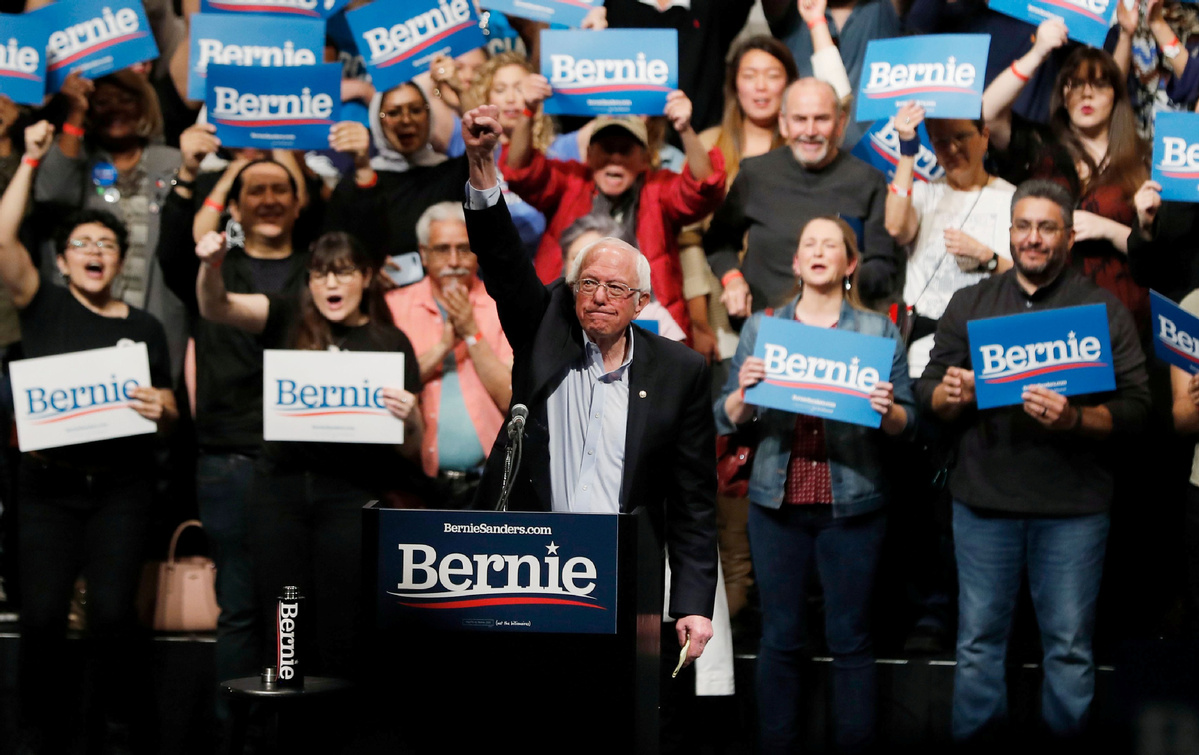 WASHINGTON - As votes were still being counted, Bernie Sanders, US senator from the state of Vermont and Democratic presidential candidate, obtained 54.2 percent of the county delegates Saturday and was declared by U.S. media as winner of the Democratic caucuses in the state of Nevada.
"In Nevada we have just put together a multigenerational, multiracial coalition which is going to not only win in Nevada, it's going to sweep this country," a victorious Sanders told a crowd of supporters in San Antonio, Texas, expressing confidence that he will win the election.
The majority support for Sanders came as 4 percent of the precincts reported county delegate votes, whose calculation is based on two rounds of popular voting. Former Vice President Joe Biden came second with 18 percent, followed by Massachusetts senator Elizabeth Warren, who fell behind Biden by 8 percentage points.
Pete Buttigieg, former mayor of South Bend, Indiana, currently held the fourth place with 8.7 percent of county delegates. Billionaire and former hedge fund manager Tom Steyer trailed Buttigieg with 6.4 percent.
Also competing in the Nevada caucuses are Minnesota senator Amy Klobuchar, who got 2.7 percent as of press time, and Tulsi Gabbard, congresswoman representing Hawaii's 2nd congressional district who live results showed has not yet received any delegate vote.
A total of 36 delegates are up for grabs for caucus day in Nevada, with an additional 12 "superdelegates" automatically entering the Democratic National Convention to be held later this year.
The Nevada Democratic Party is expected to announce three sets of results later in the day. Voters' first preference of candidates is determined by the results of the initial round of caucusing. If voters' first choice doesn't cross the threshold -- usually 15 percent -- they will have to realign with others to choose a viable contender.
The second round of caucusing indicates the final preference, in which all the candidates chosen are viable. The third set of results to be announced is the county delegates, which resemble the electoral college in the general election.