Stocks get lift from Joe Biden's big day
By SCOTT REEVES in New York | chinadaily.com.cn | Updated: 2020-03-05 11:55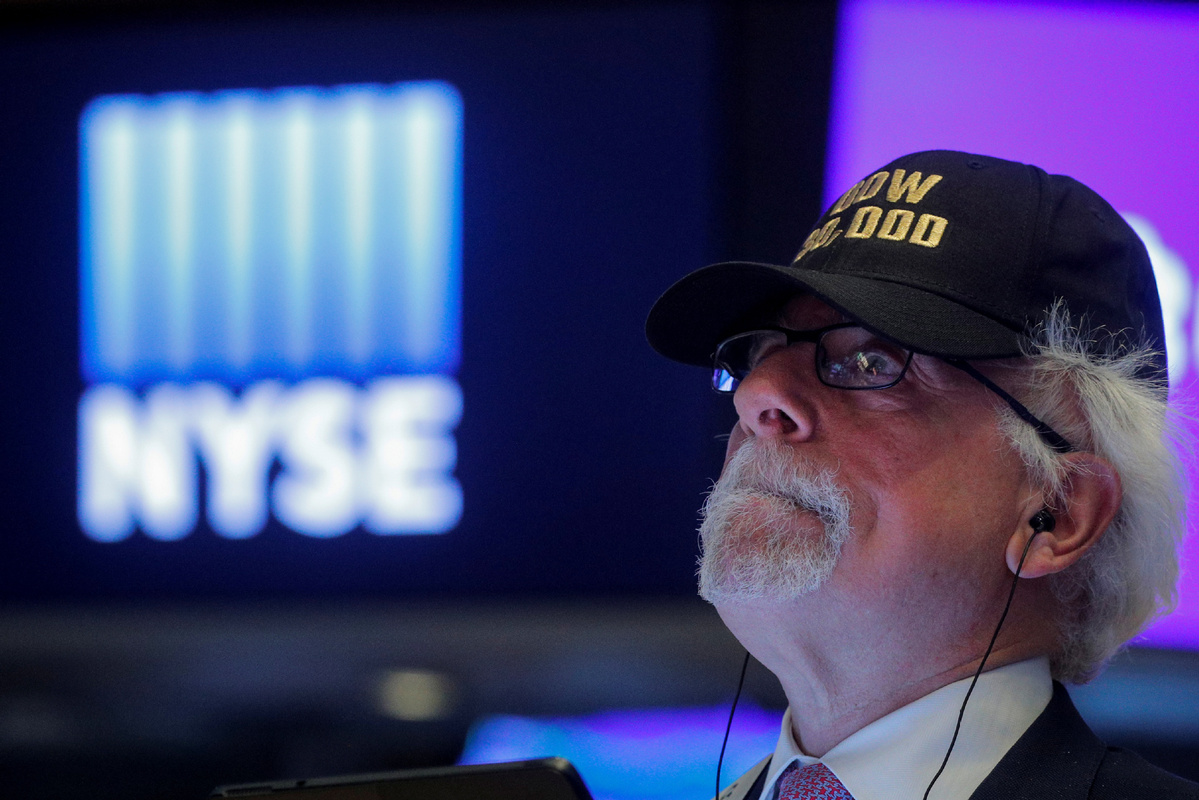 The stock market rebounded Wednesday after former vice-president Joe Biden scored major primary election victories on Super Tuesday, sparking a rally in healthcare stocks and suggesting Democrats may be more likely to nominate a business-friendly candidate than a socialist to challenge President Donald Trump in the fall campaign.
The major indices also got a boost from economic data showing strong job growth. S&P Global Ratings said the coronavirus outbreak, also called COVID-19, will trim US growth in the first half of the year but the economy will strengthen in the second half.
The Dow Jones Industrial Average rose 1,173.45 points, or 4.53 percent, and closed at 27,090.96. The S&P 500 was higher by 126.75 points, or 4.22 percent, and closed at 3130.12. The Nasdaq Composite index surged 334 points, or 3.85 percent, to close at 9018.09.
On Tuesday, the Dow fell 785.91 points, or 2.94 percent. But on Monday, the Dow rose 1,293.96 points, or 5.09 percent, after the market had lost about 14 percent over seven prior trading days.
"Investors fear Bernie (Sanders) because he wants to cut off the head of capitalism by raising taxes significantly on the rich and using the funds to provide free everything to everybody else," Ed Yardeni, president and chief investment strategist at Yardeni Research, said in a research note to investors. "Getting everything for free trumps freedom, according to Bernie. No wonder investors are reacting to him as though he is going to infect us all with the virus of socialism."
Sanders has unsettled markets with his proposal to nationalize healthcare, a threat to private insurance companies. On Wednesday, Anthem, Humana and UnitedHealth Group, Cigna, HCA Healthcare and CVS Health rose.
Drugmakers Johnson & Johnson, Novartis, Pfizer, and Merck also advanced.
Sanders, a US senator from Vermont, has proposed a ban on hydraulic fracking and would use antitrust laws to break up major Silicon Valley companies.
In Wednesday's trading, oil companies Chevron, Exxon Mobil and Sunoco rallied. Chipmakers Intel, Nvidia and Advanced Micro Devices climbed. Apple, hit by supply-chain disruptions in China due to the coronavirus, also gained.
On Wednesday, Biden edged out Sanders in the Maine Democratic presidential primary, where Sanders was favored in forecasts heading into Super Tuesday. Maine will award 24 pledged delegates in the Democratic nominating race. Sanders won the state with 64 percent in 2016.
Biden won 10 of the 14 states voting on Super Tuesday, including major victories in Texas and Virginia.
Sanders won four states, including California, the top prize for delegates on Tuesday, though the exact delegate allocation from the state is not yet known.
Former New York mayor Mike Bloomberg dropped out of the race Wednesday and endorsed Biden, suggesting that Democrats may coalesce around a more business-friendly candidate and reject the progressives led by Sanders, who calls himself a democratic socialist.
S&P Global Ratings said the Federal Reserve's decision Tuesday to cut interest rates by half a percentage point to a range of 1 percent to 1.75 percent "is a clear signal that (it) won't wait on the sidelines for long and let runaway selling on Wall Street continue given the effects on confidence as well as wealth."
The Fed hadn't cut rates so sharply since the collapse of the subprime mortgage market 12 years ago, which roiled the stock market and threatened to pull the economy into a severe downturn. But S&P said "more rate cuts are likely" this year if the "rout in the financial market continues".
However, James Bullard, president of the Federal Reserve Bank of St. Louis, told Bloomberg TV that it's not certain the central bank will cut rates again at its March 17-18 meeting.
S&P Global expects the coronavirus will reduce gross national product (GDP) growth in the first half of the year, but believes the economy will rebound in the second six months. The GDP is the total value of goods produced and services provided in one year.
"We estimate 1 percent average sequential (seasonally adjust annualized) US GDP growth in the first two quarters of 2020 versus 2 percent pre-virus," S&P Global said in a research report. "The economy should rebound in the second half of the year as consumers release pent-up demand and firms rush to fill backorders and restock inventories."
Apple, Microsoft and United Airlines have said the coronavirus will hurt earnings, but the shares of each company rose Wednesday.
The US Centers for Disease Control and Prevention (CDC) said: "At this time, however, most people in the United States will have little immediate risk of exposure to this virus. This virus is NOT currently spreading widely in the United States. However, it is important to note that current global circumstances suggest it is likely that this virus will cause a pandemic."
Private sector employment grew by 183,000 jobs in February, according to the ADP National Employment Report.
"Covid-19 will need to break through the job market firewall if it is to do significant damage to the economy," Mark Zandi, chief economist at Moody's Analytics, said in a statement. "The firewall has some cracks, but judging by the February employment gain it should be strong enough to weather most scenarios."
A strong jobs market suggests strong consumer spending, which represents about 70 percent of the US economy.